Interested in pursuing all or part of this marketing program and strategy? Call us at (323) 963-3653 or contact us here to get started.
Be a part of the LGBTQ+ conversation! Is your LGBTQ+ Marketing putting YOU and YOUR ORGANIZATION at the CENTER of LGBTQ+ Conversations online? Let us help AMPLIFY your message to a BROADER LGBTQ+ online audience, keeping your PRIDE message alive 24/7, 365 days per year!
In addition, we can automatically target LGBTQ+ individuals who have already expressed an interest in YOUR PRODUCT OR SERVICE...
now that's a warm lead!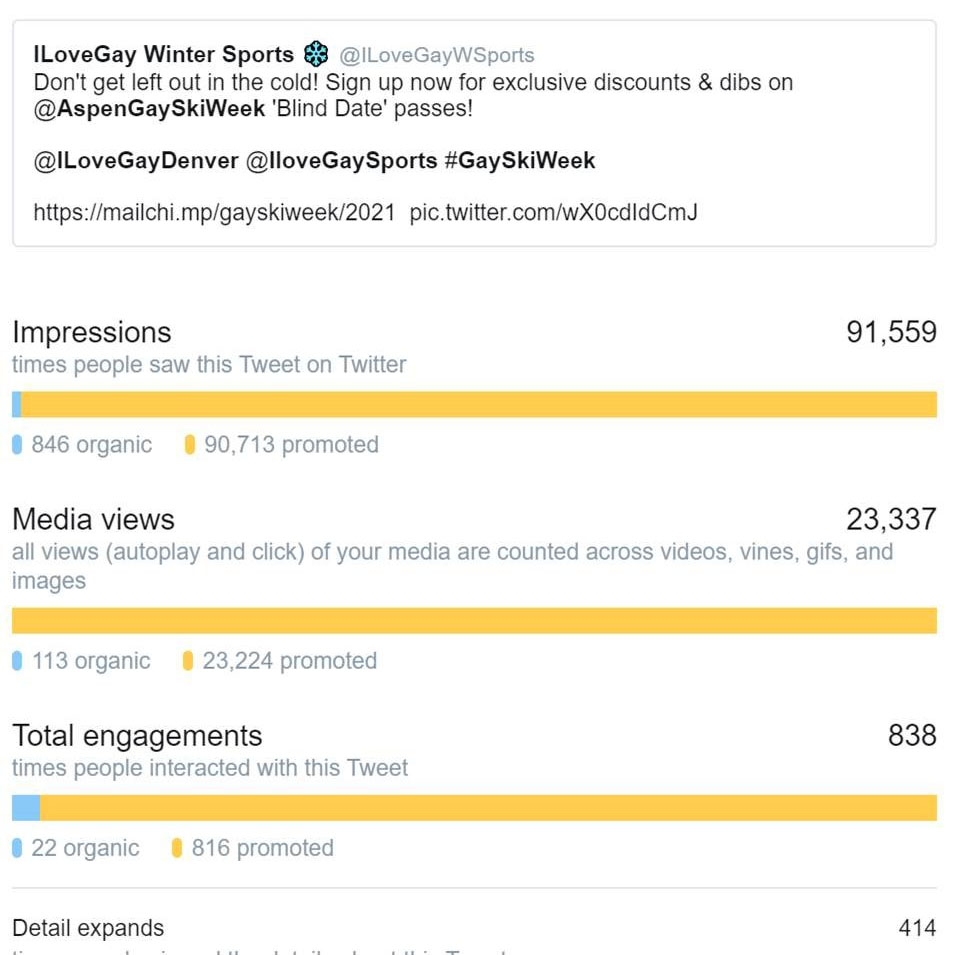 Why market to the LGBTQ+ masses... when you can market to the LGBTQ+ individual?
Most traditional media, including some of the top websites and influencers, are marketing to the masses... it's all about being the biggest 800 pound gorilla with the most site visitors and/or followers. We're marketing to the individual. Better yet, we're also marketing "with" the individual, including the #ILoveGay social media network and our strategies designed to work with and leverage user-generated content.
<!img src="/images/lgbtdestinationmarketing_logo_square03_500px.jpg" align="right" width="200">
FACT: If you're simply running articles about your organization + banner ads on a website, your campaign is probably not performing at its best.
If the media company you're working with promotes you via their social media network, but few of their followers are actually paying attention (lack of engagement by their followers), do your articles, photos and videos get seen? Speaking of social media, are your media partners working WITH YOU… commenting, liking and sharing your social media posts?
Our premise is that the power of media has shifted from eyeballs on a website to eyeballs, attention and time spent on social media. For articles about your organization on a website, they are rarely being viewed by someone who found the article listed in a website's front page or their relevant category section of their website. The articles about YOUR organization are being found either through search or via social media. And from social media, your articles are only being clicked on and viewed by those social media platforms that actually link to your article, rather than just displaying a few nice photos.
Our strategy is designed to maximize the efficiency of your ad budget, only targeting those LGBTQ+ individuals who have shown an interest in your organization's industry (theatre, sports, travel, etc.). We take your articles and successfully promote them to this targeted audience, wherever they may be on social media. On Twitter, we don't just post and promote your articles... we ensure they are posted on targeted profiles that are actually engaged with their LGBTQ+ audience, ensuring your posts and more often commented on, liked, shared, clicked-through and SEEN!
FACT: Social Media posts are like "fireflies"... they burn bright for a brief moment and then disappear.
As part of our content marketing and social media outreach, we have strategies in place to help turn those fireflies into content that "burns bright" and works for you for long-term, year-round! Coupling this with social listening and programs to encourage user-generated content, we help bring your organization to your LGBTQ+ audience, wherever they may be and whatever screens or social media platforms they may be using.
We expand and integrate your content into compelling VIDEOS, both long-form and short-form, for use on social media.
FACT: Your banner ads are being seen primarily by individuals who are not necessarily interested in what your organization has to offer.
We take this same targeting and ensure your BANNER ADS are being seen by an LGBTQ+ individual who has shown an interest in your organization's industry as well. We can geo-target your ads to be seen in specific parts of the country and the world, and we can ensure your ads are appearing to this targeted audience on nearly ALL of the top LGBTQ+ websites online today, including InstinctMagazine.com, Pride.com, GayCities.com, Out.com, Advocate.com, Towleroad.com and more. In addition, we can reach this same targeted audience via the top mobile apps, including Grindr, Jack'd, Growlr, Hornet and more.
Looking to tap into the world of LGBTQ+ influencers? We can help here as well... we work with some of the top influencers in the business, allowing their unique style and personality to create even more awareness of your destination through their eyes. We can then amplify their content via #ILoveGay, tapping into a network of almost 500,000+ followers on Twitter alone. We also have programs designed to encourage and leverage strong LGBTQ+ user-generated content about your organization's industry as well.
By engaging and sharing with these LGBTQ+ individuals online, we put you and your organization at the center of these conversations, increasing your company's brand awareness, social media followers, click-throughs to your website and overall engagement with your social media posts.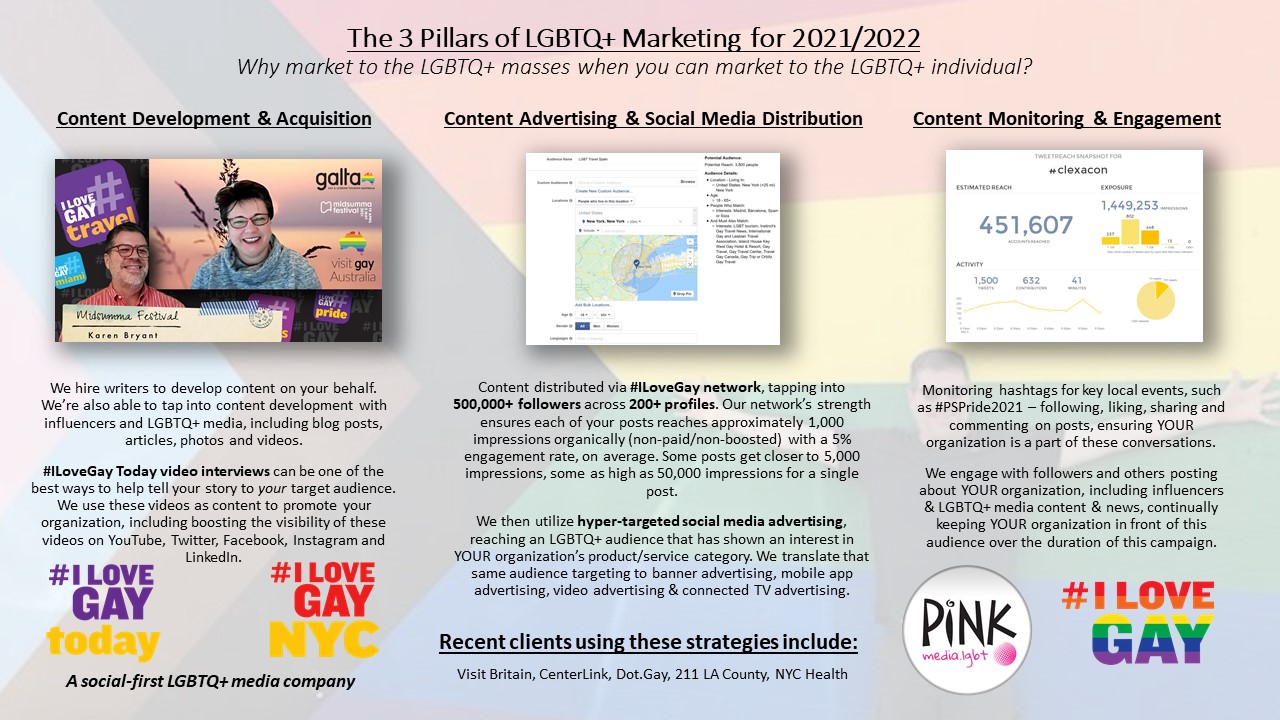 Our Top Selling Services
Recent Health-Focused Clients
NYC Health, Desert AIDS Project, Matthew 25 Clinic, 211 LA County LGBTQ+ outreach, Chicago Recovery Alliance, New Zealand AIDS Foundation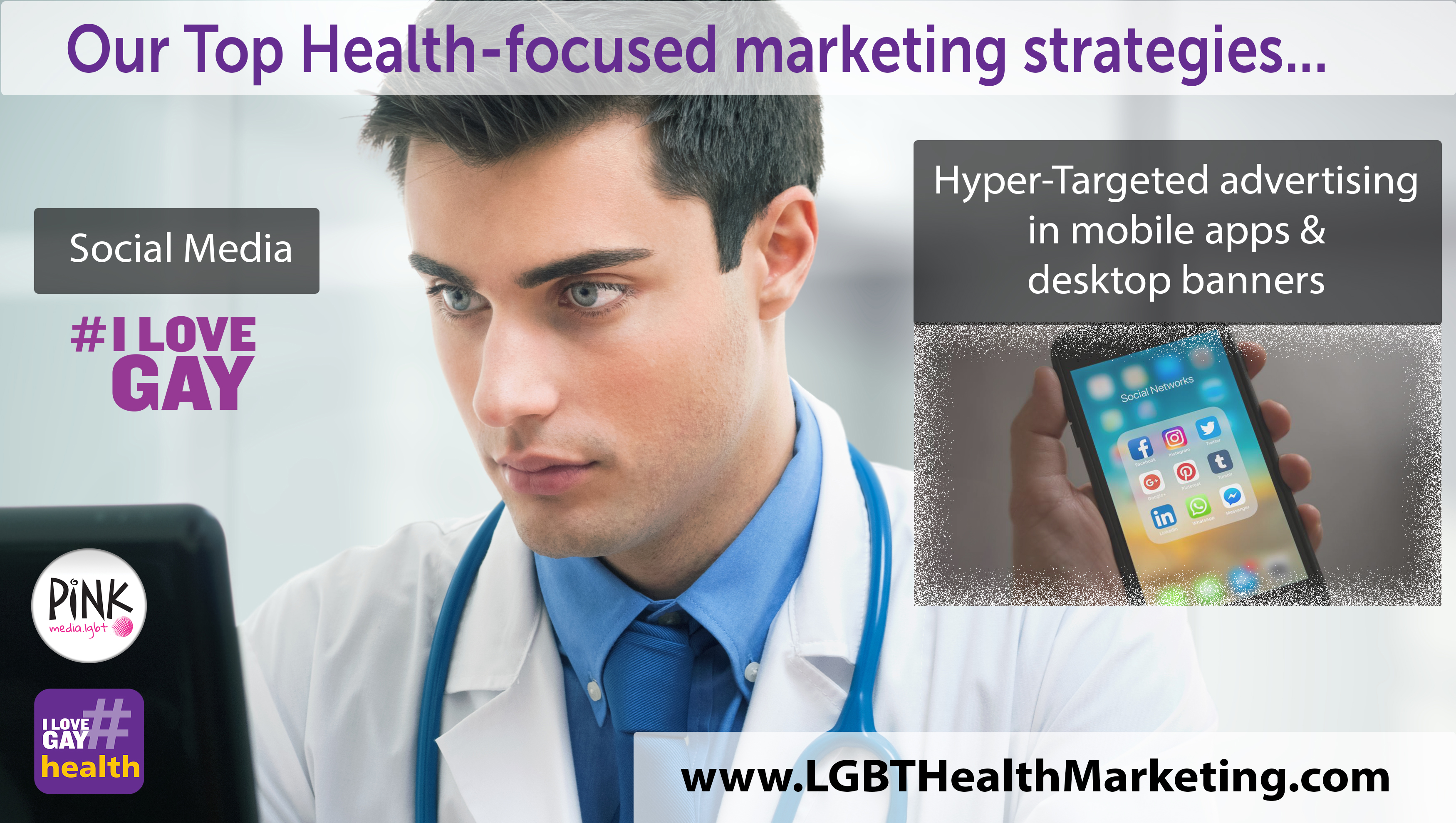 Special Note: More and more LGBTQ+ non-profits, media companies and other organizations have been awarded health-related marketing projects ranging from STD and HIV prevention to PrEP to COVID and other health-focused education programs. We have been playing a more integral role with these organizations, partnering with them to help them reach an LGBTQ+ audience that they may not have immediate access to. We're able to help their clients while remaining in the background, providing access to targeted mobile apps (Grindr, Hornet, Growlr, Jack'd and more) and hyper-targeted, programmatic banner advertising on nearly all LGBTQ+ websites online. We're also approved to run political and cause-related ads on Facebook and Twitter... an issue that has proved more challenging for organizations running any type of LGBTQ+ ad creative over the past few months. Couple that with our specialized team able to create highly effective Facebook, Instagram and Twitter audiences targeting your demographic, and we help can turn your ad campaigns into an immediate success!
Our Work Flow
Our primary LGBTQ+ marketing services fall into the following prioritization and work flow.
Clients typically begin with Level 1 services and grow from there, moving up to Level 2-4.